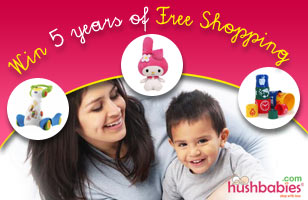 3 lucky parents can win 5 years of FREE shopping on Hushbabies.com! This is a huge Free Deal from Snapdeal. All you have to do is buy it. Hurry up, redeem by 25th May, 2012!
To Win 5 Years Of Free Shopping:
Buy the deal
Note:
Shopping for maximum 5 years @ Rs. 18,000 per year. Thats Rs.90000 for 5 years! Almost Rs. 1 lakh!
One entry allowed per household.
Deal valid only for people with kids between the age of 0 to 8 years.